Roller Recoating Process
Using Urethane Coatings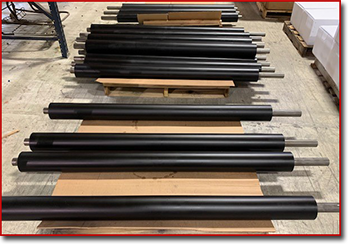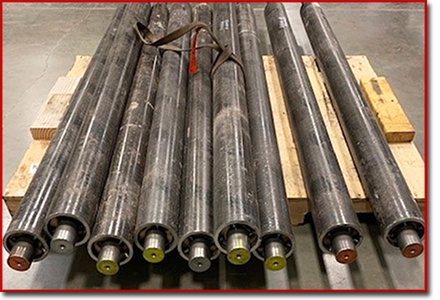 Regardless of how tough you think Rollers are, eventually the coating will wear out. Be it Rubber or Urethane, Elastomer Specialties has your solution. Since 1979 our company has specialized in the Roller Recoating Process. We have the expertise to remove and replace failed rubber or urethane, replacing it with the latest advancement in Urethane Technology.
All our urethane coatings are engineered to perform in extreme environments, temperatures and working conditions.
Once we remove the worn material from either a steel or aluminum roller we then prepare the surface by steel shot blasting. When completed, we apply a special adhesion promoter to the surface then cast or lag the urethane back on the roller core.
When our recoating process is complete, the rollers will be returned to provide you with excellent performance once installed. All our recoated rollers are meant for use both indoors and outdoors.
Our Recoating Process is Designed to Meet your Specifications
At Elastomer Specialties, we can recoat many standard size rollers, or we can help design a roller core to meet your specific needs. All final dimensions will be as you specified. We also can provide you with a variety of urethane hardness and color that will meet your needs.
We not only meet your specific objectives and specifications but in a cost-effective manner. Roller cores are too expensive to discard so when that time comes let our team of specialists give you a quote to remove and recover your rollers.
We Manufacture 'New' Steel Rollers from Start to Finish
Looking for a company that can custom make your roller axles from start ot finsih. Look no further.Our complete machine shop can engineer and assemble your roller cores. Our cast urethane division then will apply the elastomer based on the shore hardness and thickness you require. Colors are available per your request.
Our prices and quick manufacturing time is why our customers keep coming back. Give us a call today and let us give you a quote.
We Have Grinding Capabilities
At ESI, our in-house machine shop can grind the new urethane covering, depending on the size, specification and coating thickness.
The shapes below show our grinding capabilities.
Roller Shapes
Straight
Full Taper
Tapered Ends
Convex
Concave
Double Taper
Innovators of Molded Polyurethane and Hybrid Polyurea Technology!
Contact ESI @ 800-786-4244 or 918-485-0276