Quality Control at ESI
ISO Compliant:2015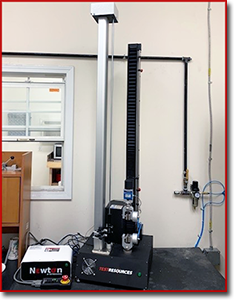 Elastomer Specialties manufactures countless molded and cast polyurethane parts and products used in numerous industries worldwide. Here at ESI we do everyday quality control tests on all our materials. We have been ISO Compliant since 2015.
Testing Machine
TESTRESOURCES 240 Series System: The 240-test machine is an electromechanical test system for universal mechanical testing applications such as tensile (D412) and Die-C-Tear.
The system features a mechanical load frame and a load cell sized to produce loads to the user's test requirements. The system can be calibrated from the full load cell capacity down to as low as 0.25% of cell range and still produce test data matching ASTM E4 specifications for accuracy. Each system is uniquely configured to match specific client requirements, even though major components are standard.
Innovators of Molded Polyurethane and Hybrid Polyurea Technology!
Contact ESI @ 800-786-4244 or 918-485-0276