Custom Cast and Molded Polyurethane Parts

About Elastomer Specialties
Elastomer Specialties manufactures countless molded and cast polyurethane parts and products used in numerous industries worldwide. We can produce soft and hard molds for product manufacturing. ESI also offers custom molded, custom cast and spray applied systems for both low and high production levels. Utilizing high-performance resins, curatives and additives, we cast polyether or polyester urethane parts with a wide range of hardness, size or shape. We pride ourselves in designing and manufacturing an unlimited variety and color of MDI and TDI elastomer products.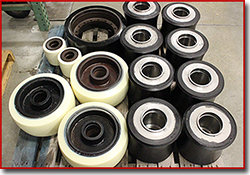 The extensive chemical and design experience at Elastomer Specialties ensures only the best materials and compounds will be used, providing maximum performance and reliability. With over 44 years of experience in the polyurethane cast industry, Elastomer Specialties can produce parts, molds or unique products from either hot or cold molded polyurethane systems.
ESI also provides accelerated prototyping and 3-D printing services which gives our customers stunning 3-D conceptual models for visual analysis, low-production molds as well as engineering evaluations.
Elastomer Specialties 'NEW' Fortus 900MC Printer Makes Outstanding Prototypes, Molds, Parts and More . . . Go to 3-D Printing Page
A Complete Turnkey Operation
Elastomer Specialties' 60,000 SF manufacturing facility includes a newly automated machine shop including 2 state-of-the-art 3-D printers, highly specialized and contained surface preparation equipment area and a clean room building to keep the parts dust free. Using the most recent improvement in polyurethane materials allows for better parts and quicker turn-around times. At ESI, we can take your design to engineering and tooling through production in a short time frame.
A Complete In-House Machine Shop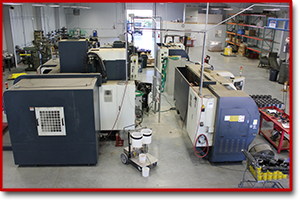 Our 3-D printing capabilities, in-house machine shop and urethane casting division eliminates the need to outsource. This gives us the ability we need to deliver your product in a time frame which will meet your tight production schedule.
Elastomer Specialties has been producing high quality polyurethane parts and products for over 44 years to both international and domestic market segments. As the world's raw material manufacturers continue to improve the science of polyurethane technology and to formulate and develop products, Elastomer Specialties will continue to remain on the cutting edge of this ever growing urethane cast industry.
Innovators of Molded Polyurethane and Hybrid Polyurea Technology!
Contact ESI @ 800-786-4244 or 918-485-0276