Polyurethane Roller Lagging
Hybrid Polyurethane and Polyurea Technology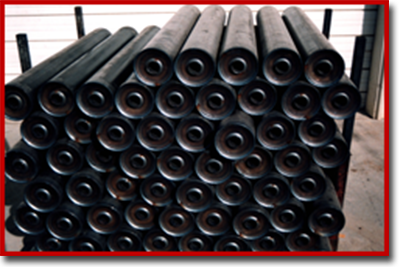 Long gone are the days when applying a urethane coating to the outside of steel conveyor roller cans took several hours to complete, using a handful of employees. The old method required multiple steps, was very hot, laborious and dangerous, not to mention each roller had to be post cured in a high temperature oven.
When ESI developed a hybrid polyurethane that cured in seconds and not hours, it changed the way roller cans are coated. Multiple layers could be added to the cans to achieve the desired Dft the customer was asking for. This technology increased ESI's production as much as 200% in a single day. There was no comparison to the overall quality, durability and cosmetic appeal that this new process provided over the old system.
The product was named RibbonFlo because of the way it flowed around the outside of the steel roller can. Elastomer Specialties' unique 6 second gel time urethane could easily be applied with only one employee. Once the appliction was complete, the result was a smooth, mirror like finish and could be loaded on pallets and ready to ship within hours and not days.
Surface preparation of the roller cans has also changed drastically. Today with ESI's addition of the automated HOFFMAN BLAST CHAMBER and SPINNER HANGER BLAST CABINET, the steel grit blast process provides an excellent white metal surface finish. This profile assures that both the primer and RibbonFlo elastomer permanently bond to the roller can.
Innovators of Molded Polyurethane and Hybrid Polyurea Technology!
Contact ESI @ 800-786-4244 or 918-485-0276