Re-Furbishing Aluminum Sheaves
Re-Furbishing System
Powerline stringing sheaves are costly. To protect their investment, companies usually bond an elastomeric liner inside the sheave channel. This process is designed to prevent damage to the aluminum channel and electric cable when stringing.
At Elastomer Specialties, we have developed a unique system that safely removes the Old Worn Out elastomer. The sheaves are then grit-blasted to a NACE-SP5 white metal profile. The third step, priming the sheaves, is a very important part of the system. The last stage for the refurbishing process is to bond our uniquely engineered Hybrid-Polyurethane to the sheave. Trimming is necessary before the sheaves are ready to ship back to the owner.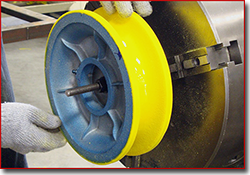 This Hybrid-Polyurethane is designed to be flexible under extreme weather conditions with high abrasion and tear resistance. When installed it is meant to be a sacrificial lining with a medium life expectancy. This is due to the extreme weight and pressure placed on the channel elastomer during the stringing process.
Our company uses the 'Toughest and Most Durable' Hybrid-Polyurethane material to re-build all our sheaves. Standard sizes for re-furbishing is 5" up to 48" in diameter. For smaller or larger diameters contact ESI for special pricing and lead time.
Once we receive your parts our turn-around time is usually 2 weeks or less depending on the quantity you ship. Our standard color is the ESI's caution yellow.
From arrival, through removal of worn elastomer, grit blasting, priming, re-applying urethane to trimming and return shipping, ESI does it all in a short amount of time.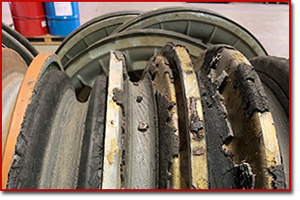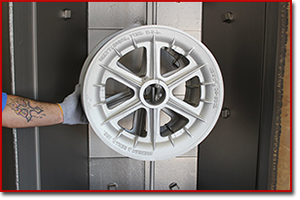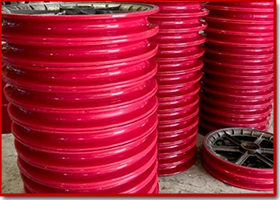 ESI: Your Custom Urethane Cast & Rebuild Specialists
V-Rollers ▪ Wheels ▪ Castors ▪ Sheaves ▪ Conveyor Rollers ▪ Large Turning Rollers