Pipeline Urethane V-Rollers
Quality of Resurfacing V-Rollers
To have the highest quality of resurfaced V-rollers, ESI's program to resurface old worn V-rollers is the ideal solution for companies in pipeline and related industries. The process is to remove the old urethane or rubber, blast the steel hub, then recast the hub with polyurethane.
ESI's unique polyurethane formulation has been specifically engineered for high impact and abrasion resistance. Our polyurethane formulations will produce cast urethane compounds ranging from a hardness of Shore 20A to a Shore 80D with physical properties that will meet your most demanding specifications. Our rapid production and turnaround in the urethane remolding of rollers greatly reduces customer down time and offers a significant savings over new roller purchases.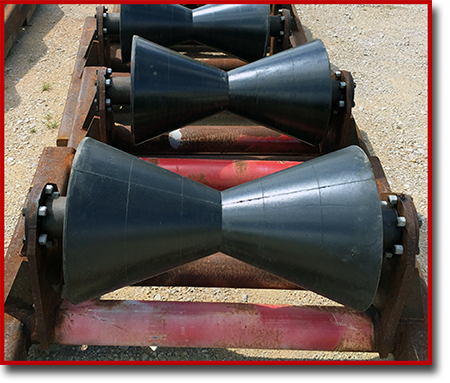 Over 55 Years of Experience in the Cast Urethane Industry!